Riyad Loyalty Program is the first of its kind in the financial sector
, which enables individuals to collect qitaf points from stc through online transactions with Riyad Capital.
The program aims to encourage clients to use the digital channels when investing in local and global markets. In addition to, opening local and global investment portfolios for new and existing clients. Collecting and rewarding points to clients will be monthly.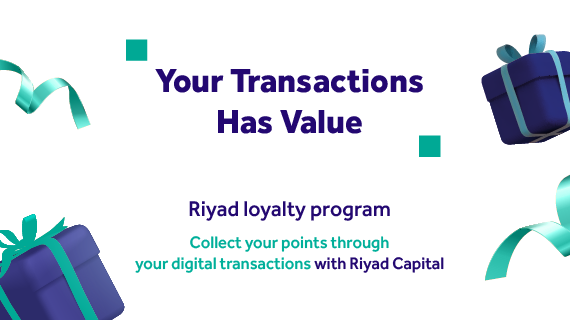 Riyad Loyalty is a program offered to Riyad Capital clients that allows them to earn qitaf points and exchange them for vouchers and rewards with qitaf stc Partners, through their use of the digital channels to invest in local or global markets, or when requesting to open a portfolio and margin lending.
Point eligibility is fixed for clients if they request one of the services below through the digital channels:
Riyad Capital's net commission: the net income after calculating the Tadawl and the Saudi Capital Market Authority commission, and the client's commission discount if any.




Joining the Riyad Loyalty Program:




All Riyad Capital clients are enrolled in the Riyad Loyalty Program. To collect qitaf points, you must share your mobile number with stc, by logging in to Riyad Capital Online and agreeing to share your number through the Homepage.




For more information regarding qitaf stc program




Send "qitaf" to 900 or visit the mystc app

.

Riyad Capital is a closed joint stock company with a paid-up capital of 500 million riyals, Commercial Registra- tion No. (1010239234) and operates under license from the Capital Market Authority No. (07070-37), Address of the General Administration: Granada Oasis 2414 Al Shu- hada District - Unit No. 69, Riyadh 13241 - 7279 Kingdom of Saudi Arabia. The services are subject to their terms and conditions, which must be referred to and read carefully and carefully, and appropriate legal, tax and financial advice must be obtained before obtaining these services and investment. The technical means that are used to pro- vide services are subject to technical risks, and therefore the mentioned services and technical means may not be suitable. For all investors, in view of the risks involved, we recommend